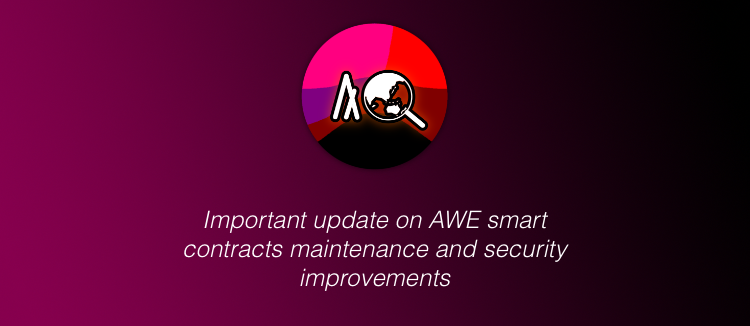 Greetings dear algoworld community!
I am back from my break and continuing further support and improvement of the AWE platform. The latest update is going to introduce new AWE smart contracts with further improved implementation and security. To ensure a smooth transition, new listings are temporarily disabled as I am performing further security improvements and maintenance in AWE smart contracts. I have an important ask for users currently having bids or listings on app.algoworldexplorer.io.
IMPORTANT!
For all users who currently have listings or bids, make sure to cancel them to smooth the transition to the newest version of AWE smart contracts.
This is due to the fact that only users owning the asset are able to control the smart contracts deployed during their listings, set prices, set bids and cancel them. Once all existing bids are cancelled, all existing set prices are cancelled and my contract migration mechanism is released, owners will be able to migrate the contracts and enjoy latest feature updates on the platform.
Next steps
I am working on a mechanism to upgrade contracts for currently deployed AW listings, once released everyone will be notified via Telegram and Twitter. The contract migration process will only require a listing owner to click a migrate button on the asset details webpage. The price for redeployment will be refunded, in other words, if you already spend Algos on listing a card, once you migrate the money for the original listing will be refunded.
Once all old listings are migrated to new contracts, I will continue working on the first set of new features such as:
Swapping Algo for AWT tokens from the AWE explorer website
Ability to list City cards for trades
Migration of statistical dashboards from algoworldexplorer.io
And lastly, adding the ability to set timed auctions and support for Relics.
Lastly, maintenance smart contract updates like this will be improved and simplified in the future as the platform matures out of the beta version. Thank you for your patience, stay tuned for when the migration mechanism is going to be available!
Sorry for the temporary inconvenience, but this update is important and will make the further trading experience smoother for everyone!