AlgoWorld started as a set of 1500 cards about the 193 countries around the world. Pulled by community traction, it encountered astonishing success and quickly evolved to propose the possibility to build cities based on the AlgoWorld Token.
The AlgoWorld Token has a 10,000,000 supply and is distributed as a reward to AlgoWorld Country cards owners each month.
Each member then can build cities in the countries they own by using their AlgoWorld Tokens. City cards are 100 units ASA. Fifty units are sent to the builder, 5 units to the diamond owner of the country, and 45 units are kept to sell City packs.
This blog post gives a detailed roadmap of the AlgoWorld Token distribution to coincide with introducing an Algo/AWT liquidity pair on Tinyman. Some information regarding the next steps of the project is also provided.
AlgoWorld Token introduction on Tinyman
From October 16, ** AlgoWorld will introduce the AlgoWorld Token on Tinyman**. A liquidity pair between USDC and AWT will be available. Each member will thus be able to buy and sell AlgoWorld Tokens.
The introduction price will be 1 AWT = 0.1 USDC.
This amount is chosen because it provides a reasonable APY via country and city card rewards with current prices, detailed in the presentation below (links provided at the end of the blog).
An AWT compensation will be offered to early AWT buyers.
If you wish, it is possible to contribute to the USDC/AWT liquidity pool and collect a part of the transactions fees. More details are available in the Tinyman introduction presentation, also provided at the end of this blog post.
As with the value of any crypto assets, tokens, or currencies, AWT can have periods of extreme volatility. This can consequently cause a lack of Algo liquidity, making it impossible to recover the Algo invested fully. By contributing to the pool, you are also confirming that you are well aware of risks associated with decentralized liquidity pools such as tinyman.org
Considering the introduction price and additional City rewards, cities' minting price will be adjusted to 3,000 AWT from October 16, with a simple mechanism to adapt minting price depending on the number of cities booked on the previous month.
If more than 20 cities are booked on the previous month, the minting price will increase: +500 AWT

If less than 10 cities are booked on the previous month, the minting price will decrease: -500 AWT
There will be no limit on City booking, but a maximum of 20 Cities will be minted each month.
It is reminded that AWT used to mint cities are removed from circulation. Thus, there will be only a finite amount of AlgoWorld Cities. However, AWT is a utility token: it is used to build cities. This is not an investment in AlgoWorld. The whole supply of AWT will be released gradually, and there will be no attempt to increase AWT price artificially over time. However, AWT price may increase with growing AlgoWorld adoption.
AlgoWorld Token distribution roadmap
This part describes the whole AWT distribution roadmap, which is designed to cover a 10 years' time frame.
AlgoWorld Country cards rewards
3,000,000 AWT will be distributed via Country cards rewards (24,470 / month for approximately 10 years).
AlgoWorld City cards rewards
From October 1, 3,000,000 AWT will be distributed through AW city cards rewards
First 1,000,000 AWT with a rate of 1 AWT / city card / month
Then, additional 1,000,000 AWT with a rate of 1 AWT / city card / trimester
Then, additional 1,000,000 AWT with a rate of 1 AWT / city card / year
These 3,000,000 AWT will be distributed in 10 years with the assumption of 20 cities built every month.
Sales
1,400,000 AWT will be dedicated to create the liquidity pool on Tinyman and have monthly sales on 10 years (around 10,000 AWT / month)
Airdrops | Games | Compensation
680,000 AWT will be dedicated to airdrops, games, and compensation for early AWT buyers
A 400% AWT bonus will be offered to early buyers (before September 1). A buyer who purchased 1,000 AWT will thus be offered 4,000 AWT. Total: 80,000 AWT
100,000 AWT are dedicated to the temple and relics game, which started this summer. AlgoWorld will organize a treasure hunt of 50,000 AWT each year. Total: 550,000 AWT
50,000 AWT will be dedicated to community giveaways (roughly 18,000 AWT were already distributed). Total: 50,000 AWT
AWT distribution infographics
The AWT quantity left (1,920,000 AWT) won't be spent during the initial ten years time frame. Instead, it will be allocated later.
Table of AWT distribution
| | Total |
| --- | --- |
| AW rewards | 3,000,000 |
| AWC rewards | 3,000,000 |
| Compensation for early buyers | 80,000 |
| Games | 550,000 |
| Giveaways | 50,000 |
| Initial Tinyman supply | 200,000 |
| Sales | 1,200,000 |
| AWT for further allocation after the 10 years timeframe | 1,920,000 |
Graph of AWT distribution over time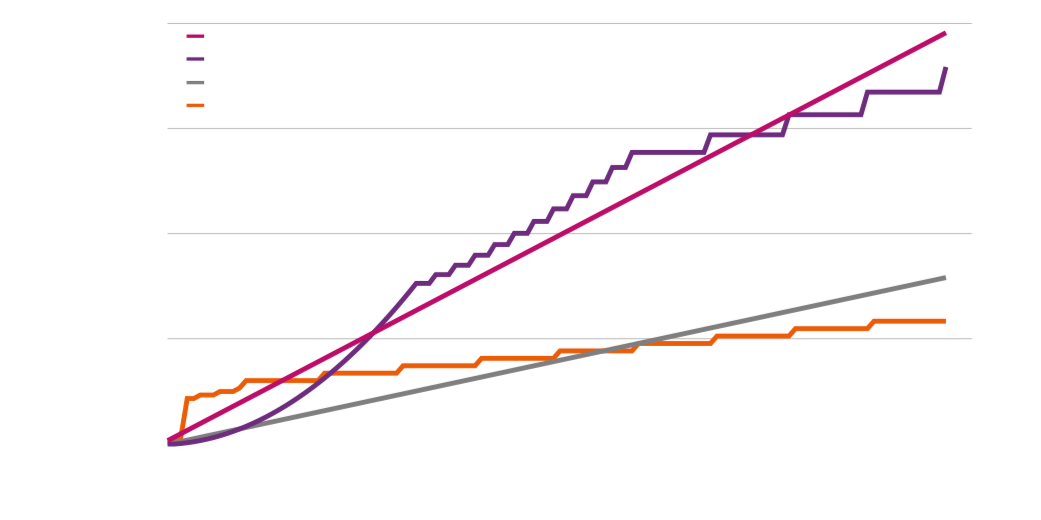 AlgoWorld global roadmap
Besides AWT distribution, there will be new features in the upcoming months!
It will be possible to purchase City packs from the Explorer, have timed auctions, and discover future design upgrades. So stay tuned to AlgoWorld!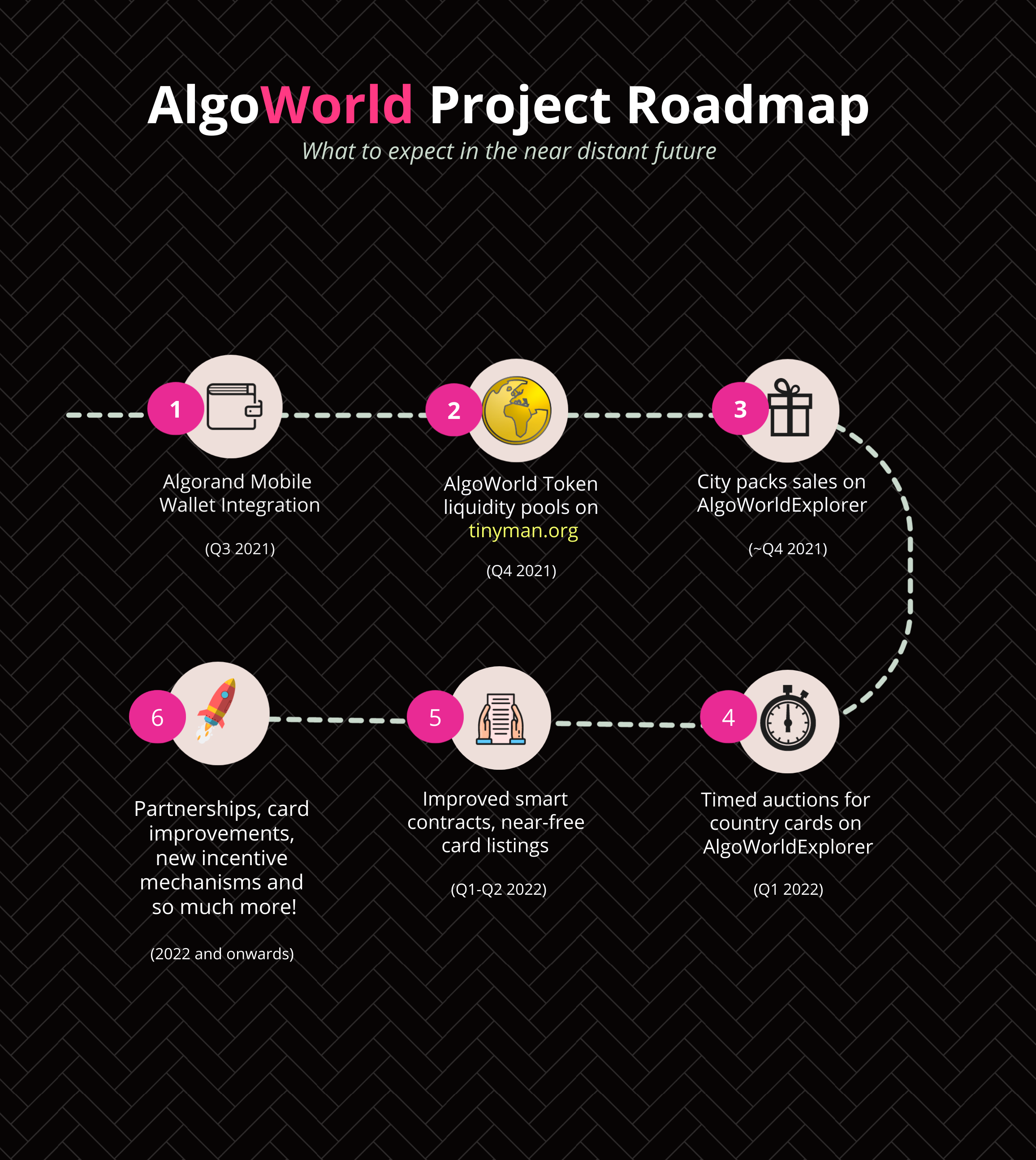 Download detailed roadmap & tokenomics slides